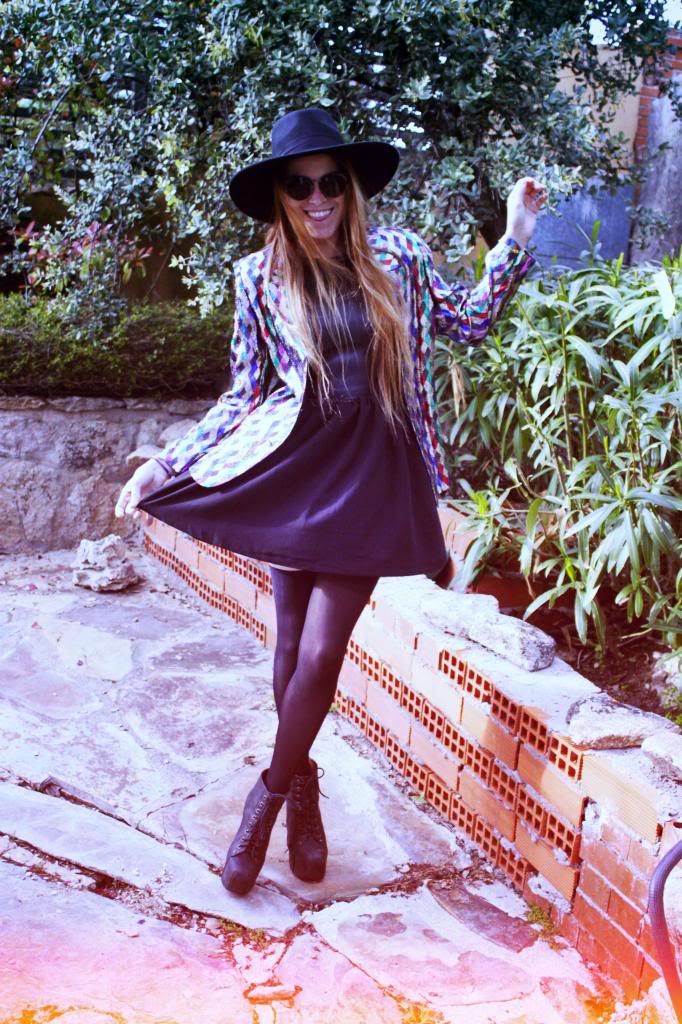 I was not sure if to post this look mainly because of the horrible lighting and quality in which they resulted, but I decided that I liked the actual outfit too much to send it to waste.
Part of the reason why I like this outfit this much is because of this real vintage jacket! It is a hand down from my aunt who bought it almost 20 years ago in an amazing vintage store of the time in Italy.
You all know how Jeffrey Campbell and I have a deep, strong, everlasting relationship (don't worry, my boyfriend has been aware of this affair for the past 4 years) and here is just one of the many demonstrations.
This amazing two-textured dress is from HEDONIA, you can check out their store here.
My cat-eyed sunnies are from Meister Shades, an amazing vintage boutique. You can find the rest of their collection in ASOS MARKET PLACE or in their Etsy shop. Their online shop will soon be ready!
I hope that regardless of the unfortunate pictures you managed to find some inspiration in this post!
HAPPY FRIDAY!
CARPE DIEM
..................................................................................................................................
No estaba convencida del todo si poner este post ya que las fotos salieron pésimas, con una luz horrible y una calidad inexplicablemente rara, sin embargo, me gustaba tanto el atuendo en si, que decidi seguir adelante y enseñarles el resultado -pese a todo inconveniente-. La principal razón por la que me gusta tanto este look es por el blazer, un blazer verdaderamente vintage que compro mi tia en Italia hace ya casi 20 años (y en ese entonces ya era "vintage", así que imagínense!)
Ya saben todos que tengo una relación amorosa verdaderamente intensa e interminable con Jeffrey Campbell (no se preocupen, mi novio lo tiene asimilado hace unos 4 años ya) y e aquí una de las infinitas pruebas.
Espero que a pesar de las lamentables imágenes, hayan encontrado un poco de inspiración en este post.
¡FELIZ VIERNES!
CARPE DIEM
Follow me // Sígueme: