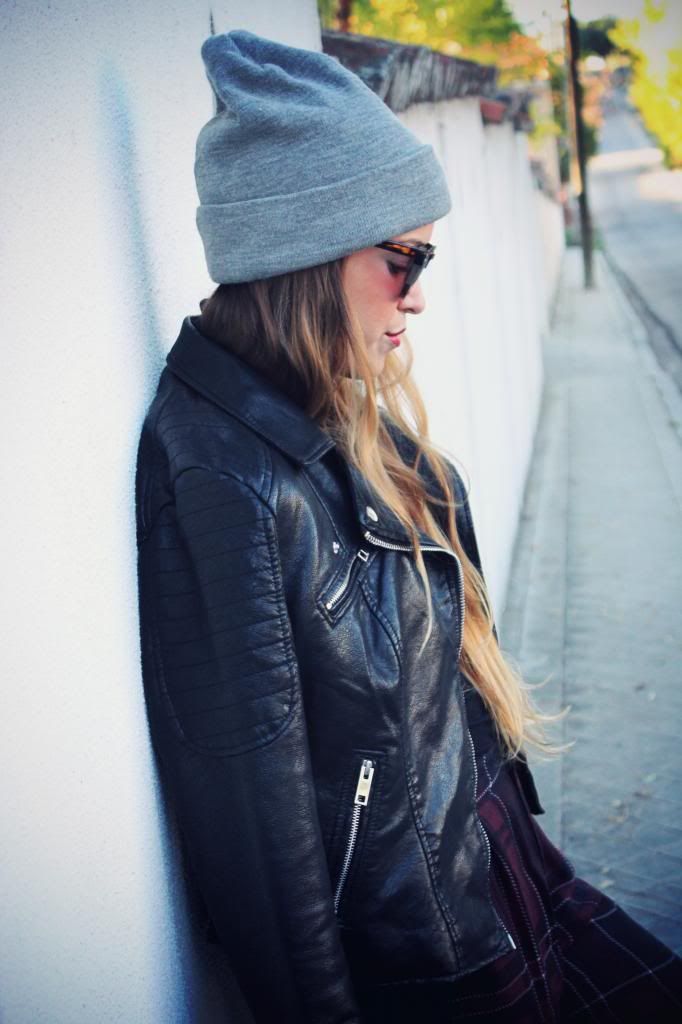 What can I say, I'm a sucker for comfortable outfits combining trends and classics. Unless you live under a rock, you're probably aware that the "trending" part of this look is located in the leg area- YES! the tartan print pants! And the classics are the leather jacket and the go-to shoes: the loafers, in this case with a more edgy side as they have studs in them. Beanies are a must in my closet for these upcoming seasons, working perfectly for both bad hair as well as cold days. I love the "I don't really care" vibe they give, at least in my opinion. You know me and hair things... its an inevitable love thing.
This is an example of an everyday outfit. Something I can wear to class, dinner or just to do errands around the city. Comfy trendy pants, comfy fun shoes and a little edge with a moto biker jacket. Simple but all in all cool.
What is your go to outfit?
____________________________________
Que puedo decir tengo una debilidad por atuendos que combinan lo clásico y "trendy". Clasicos en este caso siendo la chaqueta biker de cuero, los mocasines, mis zapatos salvavidas, y lo "trendy", a no ser que vivas debajo de una piedra, seguramente ya sabes que me refiero a los pantalones con estampado tartan! Los gorritos (y todo accesorio que pueda ir en la cabeza) son otra de mis debilidades y un "must" en mi armario para estas temporadas. Funcionan tanto para los dias frios como para camuflar una tragedia en el pelo esos dias que nos levantamos y ningun peine puede con nosotras. Me encanta la vibra de "no me importa" que añaden a cada look, por lo menos en mi opinion.
Este es un buenisimo ejemplo de algo que podria usar tanto para clase, una cena o para hacer recados por Madrid. Pantalones comodos y trendy, zapatos comodos y divertidos y añadiendo ese margen con la chaqueta motera de cuero. Simple pero ante todo cool.